RABT BOOK TOURS – BOOK EXCERPT : TERMINATION SHOCK (INTERSTELAR ENFORCEMENT AGENCY #1) BY GILLIAN ANDREWS

Date Published: First of December 2019
In a galactic meltdown that threatens spacetime itself, the universe needs superheroes. On offer: a Spacelander with a slight attitude, an irritating protégée who talks back and vast alien beings who may span the cosmos but who have quite a problem communicating with other species.
The learning curve might be too steep.
Ryler Mallivan's comfortable life as an upstanding young freighter captain has just imploded. Avaraks are storming the training ship he is on and the bullets being fired are not blanks. Interstellar war has broken out and unless he moves fast they will all be as stone dead as the instructor lying at his feet.
But this is one conflict they can never escape. The cause of the trouble is far closer than they know and will bring Mallivan and his ragbag fledgling crew under ferocious attack from all sides.
They are going to need all their wits about them if they are to stay alive. And they have to, because there is nobody else to save all their worlds from a doomsday weapon which is set to obliterate the entire cosmos.
Just how much can one lone spaceship do?
EXCERPT :
Mel's eyes were sidling towards Sammy. She was wondering whether to mutiny or not. I cocked the firing mechanism and pointed my gun at her. She rolled her eyes, but at least that brought them back in my direction. She pushed the barrel of her own M487 XRS against her shoulder and squinted down the corridor at the invaders. The sound of her firing was just one more boom amongst the juddering metal which screeched its demise. If we didn't clear this position soon we were lost. Tears were streaking down her cheeks. I wasn't sure if they were of rage or fright. It didn't matter. All she had to do was keep firing. If she didn't I might shoot her myself. I turned to cover our rear. Poor old Commorancy was groaning like a collapsing whale. This ship wasn't going to last much longer. A computer voice suddenly crackled into life over the ship's loudspeaker system. "Abandon ship. Abandon ship. This is not a drill. Proceed to your nearest exit port and board the shuttles in an orderly fashion." Thanks a lot. Would if we could. I guess the announcement was one step better than 'we are about to abandon ship leaving the rest of you to die in this old bucket', which is what our esteemed captain really meant. Mel wavered. My back was jammed up against hers. I could feel her gun go quiet as she processed the information. A bullet hit Sammy, who collapsed on the floor. I snarled backwards at her. "Keep firing, damn it! Don't you even think about taking your finger off that trigger!" I felt, rather than heard, the gasp of outrage, but my words were effective. She started to return fire again. I squashed the Tyzaran girl between me and Bull. She was half our size. At least we could act as human shields for her. She was cringing at the sounds and the flashes of gunfire, her crest sticking out rigidly from her scalp in panic. I tugged at Sammy's shoulder lapels, dragging and pushing him slightly to one side, where a small doorway gave him a little better cover. I couldn't spare the time to look at him. I just kept returning their fire. The shuttles in the stern cargo hold might as well have been ten kilometers away. We were not going to get there in time. I was pretty sure our part in this newly born war was just about over. I was pretty sure our part in life was just about over.
About the Author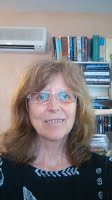 Gillian Andrews is also the author of the award-winning Ammonite Galaxy series, and Kelfor, the Orthomancers. She is English but lives in Spain, and is passionate about Cosmology. She likes to write upbeat space opera with strong protagonists and complex aliens.