THE SHADOW OF THE GODS (THE BLOODSWORN SAGA #1) BY JOHN GWYNNE
TITLE : The Shadow Of The Gods (The Bloodsworn Saga #1)
AUTHOR : John Gwynne
GENRE : Adult Fantasy, Epic Fantasy
FR RATING : ⭐⭐⭐⭐⭐(5 Stars)
DATE OF PUBLISHING : January 27 2022
FR REVIEW
Disclaimer : Thank you, Netgalley, Little Brown Book Group, and Orbit for providing me with an arc of this book. I am leaving this review voluntarily.
The Shadow Of The Gods by John Gwynne is the first book in The Bloodsworn Saga. I have heard so much about John Gwynne and his books that I was delighted to get my hands on this one and participate in Goodreads Buddy Reads. Buddy reading is a unique and fun experience on its own, but to read a book that's unanimously raved about by the entire book (fantasy) community is another thing. I wasn't sure what I was getting myself into when I picked this up, other than the general idea I had after reading the synopsis. The book blew me away with the epicness of the story and was highly riveting with constant edge-of-the-seat-action throughout the book. It was an absolute page-turner by all counts!! When I say I devoured this book, I mean it. I blitzed through this book despite the initial struggle with some of the words and their meaning. It was just a minor bump on a long road to an intense, bloody, and savage journey.
The story is set in a Norse-inspired world called Vigrið. After the Gods battled with each other and fell in a bloody and gruesome battle; the catastrophe of their fall resulted in a land that was ravaged to its bare bones. A new world rose, with power-hungry and ruthless jarls feuding with one another and expanding their territories. Monsters and other creatures prowl the lands and the woods. They wreak havoc on regular folks, threatening their existence. The world is in chaos once again, with new dangers lurking ahead. With rumors of a looming war spreading throughout the lands of Vigrið, three people will shape the fates of the world.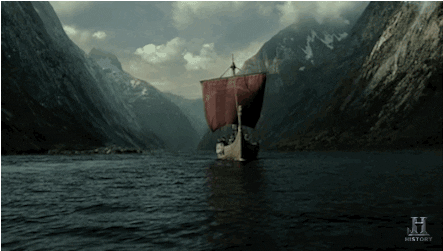 Source : Giphy
We follow three perspectives that are so unique and individual that you can't help but be pulled into their storylines from the get-go. Their compelling narratives and characterizations are the strongest points of this epic opener to a brand new series. The themes of found-family, an impossible quest seeking battle fame, camaraderie, and friendships all add to the story wonderfully.
Gwynne has succeeded beyond my expectations when it comes to the pacing and he has managed to maintain it till the end. There were no dull moments in this book. It was jam-packed with moments, action sequences, battle scenes that kept me glued to the book. The jaw-dropping brutality and the gore with the vivid descriptions made this book so much bloodier than what I anticipated. If you can't handle some skull-splitting, intestines being ripped out, and various other body parts being carved out in a bloody mess, or plain dismemberment, then this book is not for you.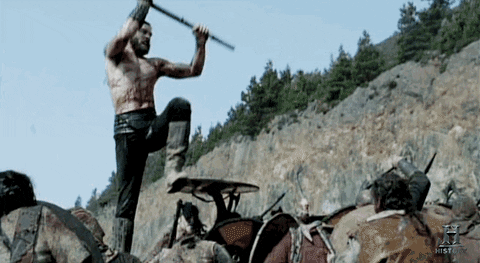 Source : Giphy
The characters were one of the highlights for me in this book. Orka was my favorite. She was written with so much care and love, and you see it in every scene. Orka is the quintessential female badass I have come across. Every female character in this book walks the walk rather than doing a whole lot of talk, which I am highly appreciative of. Elvar's story did take me some time to commit to, but I was patient and curious to see her journey and what it would reveal to the readers. Varg was full of mystery and revelations that I couldn't wait to figure out. Every single one of the characters stood out. It speaks a lot about the talent of the writer and his ability to bring forward such compelling character arcs that make readers commit to their stories as they get unraveled.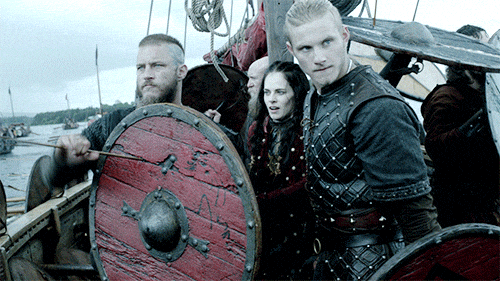 Source : Giphy
The world-building, the lore, and monsters all add another layer of brilliance to the story. The descriptions and details were fascinating to see and explore, as I am not familiar with Norse-inspired settings.
The ending was epic as it was the point of convergence for a couple of storylines. The bloody carnage, unflinching brutality, and savagery along with the tumultuous emotions this story evokes, leave readers wanting for more and eagerly waiting for the next installment. I had a blast reading this book, and I am still thinking about things from this book. It leaves a distinctive impression, and I love when a story could be outstanding like that.
Overall, this is a strong start to a brand new series, and I highly recommend reading this if you love epic fantasies. It's the most satisfying first book you are going to read and is guaranteed to leave you hanging, and wanting for more. I gave the book 5 solid stars and can't wait to see what the author has in store for us in the upcoming books.
Source : Giphy
SYNOPSIS
Set in a brand-new, Norse-inspired world, and packed with myth, magic and bloody vengeance, The Shadow of the Gods begins an epic new fantasy saga from bestselling author John Gwynne.
After the gods warred and drove themselves to extinction, the cataclysm of their fall shattered the land of Vigrið.
Now a new world is rising, where power-hungry jarls feud and monsters stalk the woods and mountains. A world where the bones of the dead gods still hold great power for those brave – or desperate – enough to seek them out.

Now, as whispers of war echo across the mountains and fjords, fate follows in the footsteps of three people: a huntress on a dangerous quest, a noblewoman who has rejected privilege in pursuit of battle fame, and a thrall who seeks vengeance among the famed mercenaries known as the Bloodsworn.

All three will shape the fate of the world as it once more falls under the shadow of the gods . . .
Source : Goodreads