RABT BOOK TOURS – BOOK REVIEW : DOUBLE BLIND BY SARA WINOKUR
TITLE : Double Blind – The Icelandic Manuscript Murders
AUTHOR : Sara Winokur
PUBLISHER : Anchor House Publishing
GENRE : Thriller / Mystery
FR RATING : 4 Stars
DATE PUBLISHED : March 31, 2020

SYNOPSIS
A young boy disappears in the chill of North Iceland. Twenty years later, a mysterious poem lands on the desk of his twin sister Brynja, a forensic geneticist, and rekindles her hopes that her brother might be alive. As Brynja unravels the clues, more poems arrive, each bearing dire consequences for those who receive them: the guard of the medieval manuscript of Icelandic sagas that possibly has the answer to her burning question, the prime minister's secretary, the local pastor.
Is the poet out to stop Brynja from finding her brother and shut down her access to the DNA database? Or is the verse maker simply a psychopath copycat killer?
Fighting the visual auras that have plagued her since childhood and now threaten everything she holds dear, Brynja must summon the strength to navigate the twisted labyrinth of the poet's mind and confront the dark secret buried in her family's past.
"DOUBLE BLIND: The Icelandic Manuscript Murders" is a wild ride through the cultural landscape of Iceland, from rural farmsteads to icy fjords to the high-tech world of DNA forensics. This crime thriller packed with twists and turns will keep you at the edge of your seat until the very end.
FR REVIEW
DISCLAIMER : Thank you, RABT book tours for letting me be a part of it and also providing me with an ARC of this book in exchange for an honest review.
Brynja the forensic geneticist is the head of a new division heading investigations for the police department. She is a hard worker and keeps working to prove herself to her colleagues who do not appreciate a female heading the department. Her life hasn't been perfect by any means. She lost her twin brother at a very young age while they were enjoying a carnival. At first, they thought he might have wandered off, then later thought he might have been kidnapped. All investigations came to a standstill because of the lack of any evidence. It's been twenty years now and she is still struggling with the loss of her twin.
Her dad hasn't been much of a father figure to her with her mother always being in bed and sick. She had mental health problems and her dad spent the majority of their life dealing with it and then, later on, grieving his son. Jonah who helped their family from a long time with their land and the work there became more of a parent to Brynja. After twenty years a strange poem pointing out clues to the possibility of Lucas being alive turns up at Brynja's office. The mystery poem was written on an old parchment pointing to an old manuscript of Iceland. The more Brynja looks into the poem she finds people around her receive strange food packages with warning notes asking her to halt her search for her brother. People who ate the food die of suspicious circumstances leaving more questions in the wake.
The book is set in Iceland with its natural beauty and the icy winter taking center stage. The story was very atmospheric with the descriptions of the place and the climate all giving us a great ambiance for this story. The plot of the story is quite interesting and the writing is very much informative and engaging at the same time. I was gripped from the very first page and was very much into figuring out who the killer was.
Brynja and her background as a geneticist served very well to bring in more information about the investigations and the author's background in the field reflects in the story excellently. I loved al the information dump and is here for it. There was a lot of history of Iceland and the older Manuscripts in the story. I loved how the author incorporated the different Sagas that are part of these manuscripts. The Sagas are deeply rooted in their history and their culture. The food, the recipes, the ambiance, the scientific aspect of genetic engineering and the lush history were all prominent parts of the story. These accentuated the story wonderfully.
Brynja as a character is what I would describe as a woman who is very focused, a bit insecure about herself, driven and relies heavily on science and explanations. Her personality is not what would appeal to a lot of people as she is serious and doesn't have a lot of fun. She hates confrontation and hates depending on people and even showing her emotions outward.
The side characters all serve remarkably. I do have some doubts concerning some aspects of the story but I believe It was done very well and the mystery was kept effectively under wraps till the climax and the suspense aspect of it well done. Although I enjoyed the story and was engrossed in it I didn't feel a connection to Brynja's character. But the story is very much enjoyable and riveting. It is a classic whodunnit style story. I rated the book 4 stars and recommend checking it out.
If you love an atmospheric setting, rich history, whodunnit style murder mystery Double Blind should definitely be on your TBR. I hope you guys check this book out. Happy reading!!

ABOUT THE AUTHOR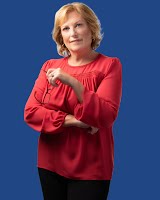 Sara Winkour is a geneticist and researcher who reinvented herself as an author. She writes historical fiction and informed cultural thrillers hoping to educate readers while they're being entertained.
Sara has a Masters in Psytogenetics for cancer diagnosis and a Ph.D. for her work on Muscular Dystrophy, identifying mutations that cause disease. She is also a consultant at the University of California and an Associate Researcher at Biological Chemistry School of Medicine at UCI, Irvine. She was part of the team that found the gene that causes Dwarfism and Huntington's Disease.
Sara is an avid reader of historical fiction, mystery-thrillers, and Scandinavian Noir. She also loves to travel and has already visited over 60 countries.
Being an ovarian cancer survivor gives Sara a sense of gratitude, strength, and perspective that she extends to family, friends, work, and her writing. A mother of three, she resides with her husband of 37 years in Southern California.